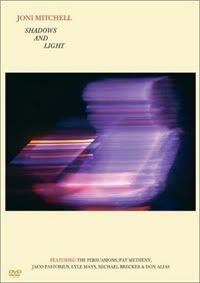 We Do What We Must to Stay Sane
I found out that my vinyl record of Joni Mitchell's live concert recording of the "Shadows and Light" tour from 1980 vanished into the alternative universe in my cozy little hovel. Some of you remember vinyl, yes? Please say yes, just for the sake of humoring a 52-year old mad woman. ;-) I
had
to do something about the disaster. But what to do? "Shadows and Light" was never put on CD. It is, however, on DVD. A few clicks, (easier than psychotherapy ... I should know... with ten years under my belt... ten years in a row), tiny little clicks and few dollars later, and the magic of Amazon.com sent it my way. It's
HERE
.
For the unitiated, the "Shadows and Light" tour featured perhaps one of the most impressive bands of the 80s: Joni, Pat Metheny (guitar), Jaco Pastorius (fretless bass), Michael Brecker (sax), Lyle Mays (keyboards), and Don Alias (percussion). And the DVD was worth the US Postal Service wait. If you don't want to spend the money, see if NetFlix has it, if you're a NetFlix sort of folken.
Last night I watched it a second time, transfixed. And since this morning I've been listening to earlier CDs, in particular
For the Roses
and
Blue
. I make no bones ever about thinking Joni is one of the finest musician-composer-arranger-poets of my generation. I have a friend, a former co-worker, who can't stand her. He's 45, and I can't for my life figure out why... I think he's missing some important gene. Or maybe he just doesn't like fine poetic imagery married to magnificent music. But he lately wants to immerse himself in the musicianship of the late Jaco Pastorius... so I'm going to tempt him.
Here's how someone else on-line describes My Lady Joni.
So there you have it. Almost. I cannot surf in an Emersonian transcendental way the craziness of the bizarro Happy Planet as my cohorts at ASZ are able to do with aplomb. It seems like some sort of deficiency in me sometimes. Sigh. I hear and read, but have little to say anymore about it all except what I've said so many times before --how I perceive it, anyway: All the political skullduggery, all the death and violence, all the callous indifference
is
the status quo on the Happy Planet,
same as it ever was
. I know this down to the DNA level. I cannot convince anyone of this, and I know it. All I can do is stay alive and "relatively" sane, and leave you with a little Joni goodness.
"Blue,
songs are like tattoos
You know I've been to sea before
Crown and anchor me
Or let me sail away
Hey blue, here is a song for you
Ink on a pin
Underneath the skin
An empty space to fill in
Well there're so many sinking now
You've got to keep thinking
You can make it thru these waves
Acid, booze, and ass
Needles, guns, and grass
Lots of laughs, lots of laughs
Everybody's saying that hell's the hippest way to go
Well I don't think so
But I'm gonna take a look around it though
Blue, I love you

Blue, here is a shell for you
Inside you'll hear a sigh
A foggy lullaby
There is your song from me"
And lest I forget, if you haven't ever wandered over to the big Joni Web site, it's here at
jonimitchell.com
There is your song from me.