59 years ago today, and the topic is still timely... WMDs, Weapons of Mass Destruction.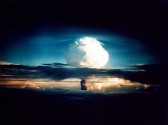 From Editor and Publisher:
The First On-the-Scene Report From Hiroshima
A big surprise:
Distortions Surrounded Press Response to Hiroshima Attack
Fast-forward: In "Japan Today" -
Iraqi doctor learns from Hiroshima's past
I don't feel compelled to quote any of these articles. Just read. War is the gift that keeps on giving!
Shock and awe, baby.
Your "Atta-Human" bonuses for today are:
How to fold a paper crane
What Would Groucho Say?